Museums
Big Bend Historical Society Museum
Box 523
corner of Raymond and Cole
(One block North of Hwy 2) Get Directions
Wilbur, WA 99185
The museum building was donated to the town of Wilbur in 1977 for the use of an area museum, honoring the early pioneers of Almira, Creston, and Wilbur. The building and museum are managed by the Big Bend Historical Society, comprised of people from all three towns.
The museum includes a "farm annex" with old equipment, cattle brands, cars, wagons, and much, much more.
Open: Thursdays April thru September – 10:00 a.m. to 2:00 p.m
For special showings call: Jerry & Helen Metcalf – at 509-647-5566 – or email gmetcalf@odessaoffice.com Appointments are welcomed!
Website is here
The museum has much to offer. Come and take some time for a pictorial journey through our colorful history; find your old teammates or distant relatives! Discover newspaper articles from the Wilbur Register preserved on microfilm and ready for you to have printed. Hometown of Wilbur's celebrated founding father who earned the nickname "Wild Goose Bill".
Lincoln County Historical Museum
Open June 1st through September 30th,
Tuesday through Saturday 10:00 AM to 4:00 PM.
600 7th Street
Davenport, WA 99122
(509) 725-6711
Get directions
Open June 1st through September 30th, Tuesday through Saturday
By appointment only the months of October through May.
Richly detailed interiors and exhibits tell the story of Lincoln County's past. The museum's collection of artifacts is available to researchers. Also available is an American Indian display, a railroad memorabilia display, farm machinery, steam engine, combines, tools, guns, a prison cell, printing press, vintage fire engines and an impressive display dealing with the outlaw, Harry Tracy.
PO Box 536
4th and Elm Street
Odessa, WA 99159
Get directions
Visitors are treated to interesting displays of antiques and a glimpse into the history behind this wonderful land of golden wheat. The large barn addition is similar in style to turn-of-the-century barns found in the Odessa area. There are many restored pieces of farm equipment to be seen inside, as well as some restored automobiles, many photographs of early harvest scenes and many other artifacts used by pioneer settlers.
Open Sundays 1pm to 3pm, Memorial Day weekend thru Deutschesfest weekend.
Appointments for other times may be arranged by calling (509) 982-2859 or (509) 982-2530.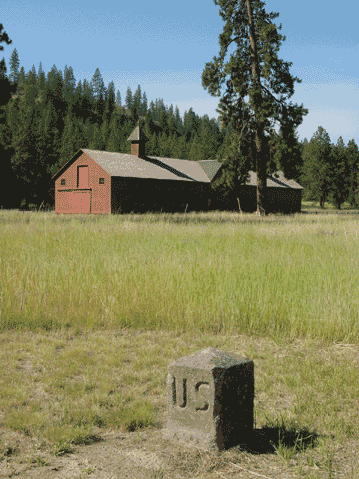 The Fort Spokane Museum and Visitor Center
21 miles north of Davenport on State Highway 25
509.725.2715 ext. 43 (Summer)
Get directions
The grounds are open year round. The Visitor Center and Museum are open in the summer and by request during the fall, winter and spring. Please call for exact dates and times. Located in the guardhouse on the grounds of Historic Fort Spokane.
The grounds are open year round.
Summer Visitor Center and Museum Hours
9:30 a.m.- 5:00 p.m. 7 days a week
Mid-June to Labor Day
Information, boat launch permits, America the Beautiful Senior, Access and Annual Passes (formally Golden Age, Access and Eagle Passports),book sales, exhibits and an interpretive slide show.
The Sentinel Interpretive Trail begins near the parking lot.
Sprague Historic Train Depot
11 a.m. to 3 p.m. Saturdays
11 a.m. to 3 p.m. Thursday & Friday by appointment. Call city hall at 509-257-2662

Inland NW Rail Museum – Reardan WA
Devoted to preserving the railroad history of Eastern Washington and the Inland Northwest, the Inland Empire Railway Historical Society, a non-profit corporation and regional chapter of the National Railway Historical Society, recently completed construction of the new Inland Northwest Rail Museum in Reardan, Wash. We invite you to join us on this exciting journey. Facebook